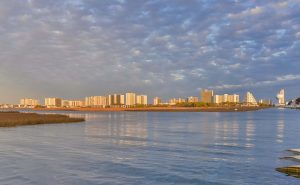 We know getting the lowest prices on vacation is everyone's goal. When you book early with Hileman Real Estate, you receive the best prices on vacation rentals in Ocean City, MD! All of our properties show a different part of the Eastern Shore and are sure to make you feel right at home. We have condos, beach houses, apartments, townhomes, and more for you to choose from. When you book ahead you're guaranteed to get the best rates with your ideal property.
Book Early With Hileman Real Estate
Here are the numerous other benefits when you book early with Hileman Real Estate! 
Best Prices 
Booking early allows you to get the best deal and prices. The earlier you book the more you'll save. Planning ahead pays off… literally! This will allow you to have extra money to spend elsewhere, like at a nice dinner, on a round of mini golf, passes for the water park, or whatever you are looking forward to doing on your trip. Booking with us is easy, so don't wait until it's too late and start planning your vacation today. 
Best Selection
Beat the last-minute planners and have a variety of options to choose from. There's a lot to consider when picking a vacation house like the location, bed count, and amenities. Hileman has tons of options and we want you to get your dream vacation home. Whether you want to be on the bay, oceanfront, in the city, or tucked away in Ocean Pines, we have rentals that will accommodate all of your group's needs. 
More Time to Plan
Picture your ideal vacation. Do you want to do more water activities? Hang out at the beach every day? Ride the rides on the boardwalk? Or all of the above? You and your crew can do it all! Once a date is set and your rental is booked you can start planning the fun. Give yourself plenty of time to write up an itinerary and make sure you don't miss out on your favorite OCMD attractions. 
The Excitement 
We know you've been working hard all year. Now that the weather is warm, it's time to kick back and relax! Everyone deserves a vacation, treat yourself and your family to the most memorable experience. The kids will be raving about your trip to the beach all summer and they won't be able to forget the nice condo they stayed at! 
Vacation Rewards
Hileman Real Estate offers you access to free rewards. These rewards include discounts at your favorite restaurants and family fun activities that you can enjoy on your visit! You won't have to stress about planning your vacation because once you choose 6 different vouchers you'll have a lineup of things to do on your trip. To learn more information about how it works, check out free vacation rewards with Hileman Real Estate. 
So what are you waiting for? Book your vacation with Hileman Real Estate today!