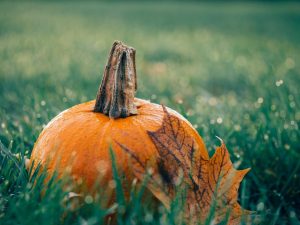 Lift your spirits in Ocean City this fall! If you're looking for a last-minute getaway to the beach, then you're in luck because in OCMD the fun never stops. In fact, the month of October is packed with fun in Ocean City whether you want to celebrate O.C.oberfest or catch some treats Hileman Real Estate has fa-boo-lous places for your stay.
The weather still nice and the water still warm well into the off-season months. Not only that, but, many local restaurants open as well to accommodate those beach lovers that are looking for fewer crowds, and subsequently, less traffic! So, what exactly are the ticks and treats in Ocean City, MD during the month of October?
Read on to learn our top things to do in Ocean City from the local experts at Hileman Real Estate who live, work, and play in Ocean City all year long!
Top 5 Things to Do in OCMD
1. Lift your spirits with the fall view!
Catch the sunrise light the fall colored trees to start your day: sand between your toes, at a bayfront restaurant…or right from your vacation rental. Take a hike through our trails or drive to Assateague to say farewell to the summer and find the pumpkin of your eye. At Hileman Real Estate, we have plenty of waterfront homes to choose from and provide you the most perfect fall views. Click the link to check out all of our vacation rentals!
2. Drive in Disguise & Trunk or Treat
Celebrate Halloween in Ocean City, MD with some fun activities for the entire family! The Halloween Drive in Disguise parade will start at 3 pm on October 24th, and ride from 26th Street towards the Pier. Participants who love Halloween are invited to dress their vehicle in costume and ride down the OC Boardwalk. After the Drive in Disguise fun, Trunk or Treating will begin on the Boardwalk, south of Caroline St. and north of the Pier. Trunk or Treat begins around 3:30pm and lasts until the candy is gone!
3. O.Ctoberfest  
You know all about corn mazes, but have you ever tested your skills on a Sand Maze? O.Ctoberfest will take place on October 24th & 25th and was made for those bones to have fun. Cheer a wheeled pumpkin race, howl for your favorite pet during the pet parade, run a race and
finally fall back and look up to the skies from your waterfront vacation rentals and enjoy the fireworks.
4. Go for a Bike Ride
During the month of October, the crowds have officially left town, leaving a much more quiet beach and boardwalk for you and your family to enjoy! This means it's the best time to enjoy a bike ride on the Ocean City Boardwalk. Consider bringing your own ride, or renting from the various bike rentals in OCMD, and take a leisurely ride down the boards.
5. Treat yourself
Fall in love with Ocean City this month, we really love our beach town. However, the absolute best thing that you can do in OCMD is to enjoy yourself! It's been a strange year for all of us and we invite you to take a break. Book a fun and safe vacation at a Hileman Real Estate vacation rental!