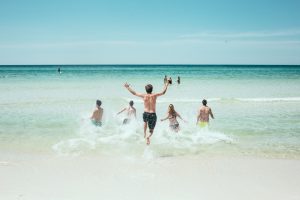 The time has come yet again and September is officially looming upon us. This means that now is the perfect time to start thinking about booking your end-of-summer family vacation, and bringing the crew down to the beach one last time.
Labor Day weekend is August 30th – September 2nd, be sure to take advantage of the sunshine and head out to the beach or relax by the pool! The boardwalk businesses are still open and Beach Patrol will be in the sand throughout the weekend for you to safely take one last dip in the water before next year.
Don't miss out on your last four-day weekend of the summer, come down to the beach to say your final summer goodbyes and get ready to say hello to the falling of the leaves!
Family Fun
OC is always jam-packed throughout the summer with fun activities for the entire family. Labor Day weekend often marks the last chance to enjoy these activities before the season is over. Head over to Sundaes in the Park at Northside Park on Sunday, September 1st for free live entertainment starting at 7pm. A firework display will begin shortly afterwards at 9pm, and of course there will be ice cream sundaes for a small fee. On Monday September 2nd celebrate the holiday with fireworks at the beach! Head to the boardwalk to watch the skies light up at 10:30pm for the last display of the season.
Jolly Roger
Jolly Roger Amusements is an Ocean City staple with rides, amusements, games, waterslides and so much more! Labor Day weekend is the last weekend of the year to catch all the fun that Jolly Roger has to offer! After September 2nd the Amusement Park at 30th Street and Splash Mountain will officially close for the season- be sure to stop in for your last chance to get in on the action!
Nightlife
What's a holiday weekend without live music and awesome happy hour specials? Secrets Jamaica USA has their own Labor Day Weekend extravaganza complete with live entertainment, food, drinks and their own fireworks display! Be sure to check out other venues with their own Labor Day specials going on!
Some weekend specials include:
DJ Casper will be playing at Macky's Bayside Bar & Grill on 8/30, DJ VYBE will be at Macky's on 8/31, and DJ Cowboy will be wrapping up the weekend on 9/1.
Walk of Shame will be playing at the Purple Moose Saloon all weekend until 9/2.
R. Ducks on Talbot St. will have Timmie Metz on 8/30, followed by Saved by Zero on 8/31.
Book Your Stay with Hileman Real Estate
Make sure that you reserve the perfect place for your crew! Browse our available vacation rentals at Hileman Real Estate, and soak up the final days of summer by escaping to the beach!