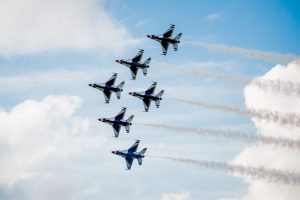 The season kicks off with many summer events in Ocean City, MD. June is packed with riveting shows and activities that will create unforgettable memories. Hileman Real Estate has a wide selection of summer vacation rentals across the Ocean City, MD area with space and amenities that will make your stay enjoyable.
Book Early for Summer Events in OCMD
Book your vacation rental early with Hileman Real Estate. Plan to visit Ocean City, MD, for a fun-filled, eventful weekend trip!
Take advantage of the 32nd Annual Cruisin Ocean City event on May 18-21. Embrace the car culture and vibrant atmosphere as over 3,000 hot rods, classics, and trucks join the car shows and parades lineup. Vintage vehicles roar through the streets, showcasing their timeless beauty. Find special DJ performances, contests, and drive-in movies throughout the weekend. There's something for everyone at this action-packed show!
Come part-tee at the 6th Annual Old Pro Open in Ocean City, Maryland, on Saturday, May 20th. Join the largest mini-golf tournament on the East Coast at Old Pro Golf on 68th Street. Compete for the coveted Green Jacket, enjoy refreshing UNION craft brewing drinks, and play on the top-of-the-line indoor and outdoor mini-golf course.
PBR Ocean City Seacrets Classic
Watch some of the world's best professional bull riders and animal athletes buck and battle in the Ocean City Inlet from June 2-4. This is one of the most exciting, heart-pounding live sporting events with music and entertainment.
Prepare to be amazed as the OC Air Show takes flight from June 10-12, showcasing jaw-dropping aerobatics and thrilling aerial displays from skilled pilots. This annual event promises unforgettable memories filled with the rush of adrenaline and awe in Ocean City, MD.
Check out Hileman Real Estate and book early for a summer vacation rental. There are so many locations to choose from, so you stay close to all the fun events happening in Ocean City, MD!