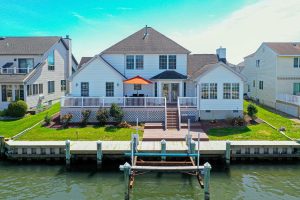 When you think of a beach town you may picture nearby crowded sunny beaches, a lively boardwalk, and warm summer days. But Ocean City has much more to offer throughout the year, and we're here to provide you with the best off-season accommodations in town! 
Just over the Rt. 50 Bridge, Ocean Pines is the best place to stay if you're looking for a relaxing retreat near OCMD. Welcome to Hileman Real Estate's guide to off-season vacation rentals in Ocean Pines, MD.
Hileman Rental Properties in Ocean Pines
At Hileman Real Estate, we're all about making your trip to the Eastern Shore special. Whether you're looking for a summer getaway, a cozy winter retreat, or a place to stay year-round, we've got you covered with a variety of rental options. In a quiet part of town, only a short drive away from the excitement in Ocean City, MD, you get the best of both worlds when you stay in Ocean Pines.
Winter Vacation Rentals
Embrace the charm of Ocean Pines, MD in the off-season with our winter rental properties! Picture bundled-up bay-view walks, cozy beach bonfires at night, and experiencing everything the city offers without the summer crowds.
Annual Rentals
Can't get enough of Ocean Pines? We get it! Live like a local and enjoy this coastal town year-round with our annual rental properties. Witness the changing seasons and make the most of all the wonderful things to see and do on the Eastern Shore throughout the entire year!
Large Group Rentals 
Planning a group getaway? Maybe it's a reunion or a wedding—no matter what, we have options that can accommodate your big crew, ensuring everyone has a comfortable and memorable stay. Our large group rental properties are the best accommodations for a memorable time with your favorite people in Ocean Pines!
Whether you're planning an off-season weekend getaway, or you're looking for a long-term accommodation in town, Hileman has you covered! Come experience the tranquility of Ocean Pines in the fall and secure your off-season rental property with Hileman Real Estate today!