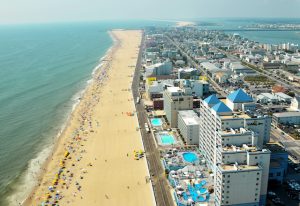 If you're looking at real estate in Ocean City, Maryland for permanent or temporary residence, or as your vacation spot, you've come to the right place! Hileman Real Estate has your ultimate guide to the Ocean City zip codes. 
The two zip codes for the city are 21842 and 21843. Both of these areas are fantastic spots to live, visit, work, and play, with unique attractions and features right on Maryland's coast.
Zip Code 21842
The 21842 Ocean City zip code is the larger of the two, covering West Ocean City, North Ocean City, and most of Central Ocean City. This area is popular for tourism because of the abundance of restaurants, shops, and hotels. Enjoy incredible amusements, nightlife, watersports, mini-golf, arcades, breweries, and delicious food options when you come to this part of town! View our real estate sales and vacation rentals in zip code 21842.
Those who live in zip code 21842 live in:
West Ocean City:

the quieter part of town away from the main stretch of beach, with many single-family homes.

Central Ocean City:

along the Boardwalk with condos, oceanview apartments, and plenty of attractions all around.

North Ocean City:

farther up on the Boardwalk, far enough away from the heart of the action with beautiful waterfront homes and condos.
Zip Code 21843
This smaller, but no less exciting area of Ocean City includes the Inlet, central business district, and much of the main beach stretch. Visiting or owning property in this area is great for those looking to embrace the action of the town and be close to the Atlantic Ocean and the Isle of Wight Bay. There are many full and part-time residents with the primary real estate being condos and apartment buildings. 
Many residents and frequent visitors take advantage of close access to the beach, marinas, and docks. This section of the Boardwalk holds tons of fun. Enjoy restaurants with fresh seafood and amusements close to the Inlet including Jolly Roger at the Pier and Trimper's Rides that are a blast for all ages. View our real estate sales and vacation rentals in zip code 21843.
There's something for everyone in our beach town! For more tips on life in Ocean City, check out our blog. Looking for property listings today? Contact Hileman Real Estate for more information!