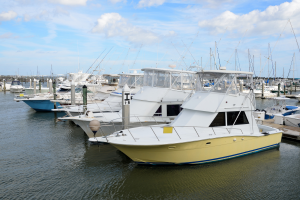 The top inside boat show on the Eastern Shore is back in Ocean City, MD! That's right—the OC Seaside Boat Show will be taking place from February 17th to 19th, 2023 at the Ocean City Convention Center. With approximately 350 boats to admire, exhibits to stop by, and the latest in boating to explore, these 3 days are sure to be action-packed and informative for boat lovers everywhere.
At Hileman Real Estate, we know all too well how important the event is to the local community but also how many people love to visit Ocean City, MD for the annual boat show! If you're still looking for a place to stay nearby, we have the best vacation rentals for you to choose from. Know what to expect from the popular boat show and find a cozy home away from home to spend the night with your friends and family.
OCMD Seaside Boat Show Attractions
Boats
This one might be a no-brainer, but there will be plenty of boats, dinghies, and yachts to check out. Whether you're a fan of a pontoon, fishing, center console boat, sailboat, and more, you'll have the opportunity to get a good look up close. 
Exhibits
The variety of vendors will surprise you with something for everyone to enjoy! Check out the full list of exhibits to see which ones you have to stop by. Say hi to your favorite surf shop or pick up some new fishing gear. There will be crafts, jewelry, and even local service companies for you to chat with.
Boat Dealers
Are you interested in purchasing a boat of your own? There will be over 50 expert boat dealers at the convention center ready to answer any and all questions you may have. 
The hours of the show are 10 AM to 6 PM on Friday and Saturday, plus 10 AM to 4 PM on Sunday. Tickets for adults are only $10 for the day or $15 for the weekend and your children under 14 have a ticket price of $1. 
Book your weekend vacation rental with Hileman Real Estate and enjoy a getaway at the beach. Don't miss out on one of Ocean City, MD's best events of the year with the Seaside Boat Show!