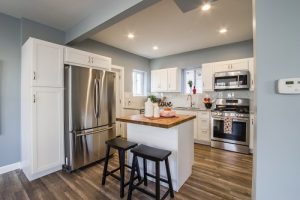 As 2018 winds down, we're all getting ready to ring in the New Year! Here at Hileman, we could not be more excited for what 2019 has in store. We're setting some goals for our New Year's resolutions, and encourage you to do the same!
Get Organized
This staple resolution is a necessity!
There's no better way to jump into the New Year than with a clean, decluttered home. Whether that means getting a storage unit to keep all of your extra decorations or keepsakes, or donating things you don't need or use anymore, there's always a way to make your home more organized.
Budget
Budget your home for any improvements or renovations you may want to make in the upcoming year. From yearly maintenance to appliance upgrades to unexpected repairs or costs, it can never hurt to have a budget laid out.
Lifestyle Changes
This kind of weight loss cannot be done at the gym… By weight, we are referring to all that energy your house is constantly "gobbling up." It's time to put your house on a healthy diet, and watch your energy usage!
We recommend starting with your HVAC ductwork, a commonplace for wasting energy and leaking your heating or cooling air. By insulating and sealing your ductwork, you'll notice your heating and cooling systems will be more efficient, and your bills will be a little lower.
Clear the Air
Your indoor air quality is very important to monitor! It can be full of contaminants such as mold, dust, viruses, or other particles. During the winter months, air quality is at its worst with windows and doors shut tight.
There are many ways to improve your air quality and avoid lung irritants. Change your furnace filters on a regular basis, make use of your kitchen and bathroom vents, and burn actual firewood in your fireplace or wood stove (you never know what may be in pressed wood products).
If you're planning on remodeling, be sure you use low-VOC paint products.
Wishing you a Happy, Healthy New Year!