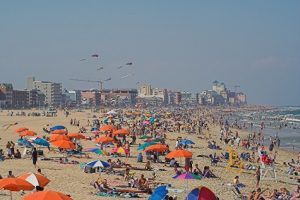 We're ready to jump full-swing into 2019, which means we're ready to help you start planning your summer vacation! It is never too early in the year to start planning your trip to the beach.
Sometimes thinking about warm sunshine, outlining all of the fun things to do this summer, and planning your vacation in Ocean City, Maryland or the surrounding beach towns is the perfect way to get rid of those winter blues.
With many experienced, reliable rental agents, all of us at Hileman Real Estate are ready to work with you to make those summer dreams come true. Start your search, book your unit online, or give us a call for inquiries about your rental.
If you're not familiar with Ocean City and all of the amazing summer vacation perks throughout the town, you've come to the right place…
To start with the obvious, you'll find all the excitement and fun your family is looking for along the Ocean City Boardwalk. Strolling the boards can be a relaxing pastime for fresh air and people watching, or it can be filled with arcade fun and buckets of Thrasher's French Fries, it's up to you!
Jolly Roger at the Pier brings amusement park fun to the boardwalk at the Ocean City Inlet, but they don't stop there. Jolly Roger Splash Mountain, Speed World, Mini Golf, and Amusement Park on 30th Street are all waiting to fill your summer vacation will laughter and thrill. They even have Ocean City's only zip-lines!
Dining options throughout town will definitely contribute to your enjoyment while on vacation. Sit back, relax, and watch breathtaking views of the sunset on the bay at various restaurants while indulging in staple Maryland foods. Of course, when booking a vacation rental, you'll also have the advantage of cooking out or having homemade meals in your own kitchen!
Ocean City's beaches and serene vacation atmosphere will be enough to make your getaway everything you're looking for and more.
Start planning for Summer 2019 now!