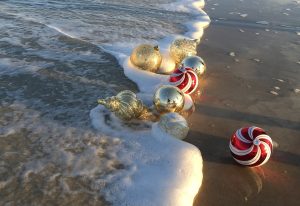 If you're looking for the perfect holiday getaway this year, look no further than Ocean Pines, MD. Make this town feel like your home away from home this season by planning to attend the festive holiday activities happening around the region, and make sure to book cozy accommodations to end your fun-filled days. With plenty of holiday rental properties available, Hileman Real Estate is your trusted real estate partner in the Ocean Pines area. Here's why this coastal town is the ideal destination for your holiday trip this year. 
Winterfest of Lights in Ocean City, MD
Just a short drive over the bridge in Ocean City, MD, you'll find the annual Winterfest of Lights at Northside Park on 125th St. This festive event happening from November 16th through New Year's Day, is a walk-through Christmas light experience that's sure to get your crew in the holiday spirit. As you stroll through the light displays, enjoy a cup of hot chocolate and participate in the various activities available for visitors of all ages. It's the perfect way to kick off the holiday season with your loved ones!
Holiday Activities Near Ocean Pines, MD
Ocean Pines, MD offers a ton of holiday activities and nearby attractions that will keep the whole family entertained. From the bay views, nearby beaches, and waterfront parks, to charming local shops and restaurants, there's something for everyone to enjoy here this winter. Explore the scenery, bundle up and go on walks by the bay, or head to one of the many neighborhood playgrounds with the kids, experiencing the joy of the season as you create lasting family memories in Ocean Pines.
The fun won't stop there! Plan your trip to Ocean Pines on the weekend of December 2nd and experience Ocean City's 40th Annual Christmas Parade. With fun floats created by local businesses, musical performances from local schools, and much more, this is an event you won't want to miss. Stay in town through the week and register for the FREE kid's cookie decorating class at the Ocean Pines Community Center on December 9th. Children ages 7-12 will get to make Christmas Cookies for Santa and of course, his reindeer! 
With so much to do this holiday season, make Ocean Pines, MD your preferred winter vacation spot. Contact our team of professionals at Hileman Real Estate and let us help you find the best rental property for your family in Ocean Pines, MD. You can also check out the available rental properties on our website!