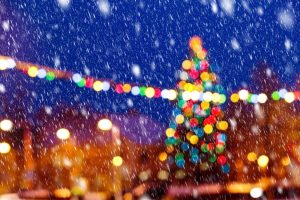 Ocean City, Maryland is known as the famous summer beach town on the Eastern Shore, just a few hours from large metropolitan cities like Washington D.C. and Baltimore, Maryland. But what slips some people's minds is how this beach town transforms during the winter season.
Throughout the winter months, there is a holiday-takeover. From the Light Up Downtown Festival in mid-November to the exciting Christmas Parade on December 1, and the Winterfest of Lights, there are countless reasons to visit the beach for the holidays! You don't want to miss events like the Jingle Bell 5K Run/Walk on December 2, or Pizza with Santa for the kids on December 5!
Consider renting a property uptown to be near Northside Park for the famous Winterfest of Lights. This holiday festival attracts millions of visitors from far away, and brings together the locals who call Ocean City home all year long. At Winterfest, over a million lights and displays will illuminate the park, creating a winter wonderland filled with gift shops, hot cocoa, and photos with Santa!
After a weekend stay at the beach this holiday season, you'll be all set to decorate your own home with the newest trends this holiday! Stock up on festive decor at the numerous winter events going on throughout town to make your holidays a little more enjoyable with a beautifully decorated home.
Remember to declutter your home before you start to fill it with all of your Holiday decor. Put out all of your favorite, meaningful decorations, but don't over-do it. We all end up hoarding the little things and keeping them in storage year-after-year, so use the holiday season as an excuse to clean out your attic or basement!
Start with your dinner table. As a main part of your home that gets utilized every day, it should be the first thing, and the easiest. With a little bit of garland, some candles, and a few cinnamon sticks, you have yourself a beautiful, modern look.
Our favorite holiday style is a sea of white! This is the classiest, most modern, appealing look when it comes to decorating your home. Some think that pastel colors are "in" this year, but a traditional trend that will never fade is the white, snow-like feel throughout your home. Make your reds and greens pop!
Don't be afraid to add a few small artificial trees around the house! Some simplistic trees with one or two color-themed ornaments can go a long way. It's great to focus on the main living room when decorating, but don't forget to spread the love throughout the rest of the home.
Happy Holidays from Hileman Real Estate!