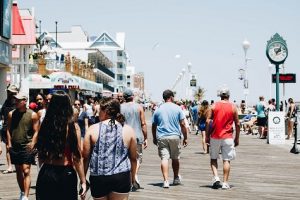 The weather has been cold and dreary lately and if you're like us, you're dreaming of being somewhere on a beach.
What better way to wash those rainy day blues away than with booking a summer vacation to Ocean City, MD? Get ready to put your toes in the sand as the sounds of the ocean wash all of your worries away. You may be asking yourself, why Ocean City? We're here to tell you!
Miles of Beautiful Beach
The best part of summer vacation is relaxing on a beach with a good book, as you hear the waves crash and feel the salty ocean air mist. With almost 10 miles of beach, no matter where you are in Ocean City, the beach is always just a few steps away.
The most peaceful and tranquil time to visit is early in the morning to catch a stunning sunrise. It can be quite breathtaking and is hands down something you must wake up early for at least one morning of your vacation. So set that alarm before bed! It's 100% worth it (and don't worry, you can catch some extra zzz's on the beach).
Dining Around Town
Experiencing unique foods and new flavors is always something to look forward to while on vacation. Whether you are looking for a sit-down dinner or if you want to eat your way down the boardwalk, there are so many unique places to try in Ocean City, MD.
Before your stay is over, dining bayside during sunset is a must. There is nothing more beautiful and romantic! If you're not from the surrounding Maryland area, a seafood dish like Maryland crab cakes or baked crab dip will bring tastes of Old Bay to life. Trust us, you won't be disappointed.
Entertainment Here & There, Entertainment Everywhere!
We love the sunshine and perfect beach weather, but when those rainy days do come along, there are still plenty of things to experience in Ocean City.
If you are a shop-a-holic there are boutiques, surf shops, and other stores to shop til' you drop. Mini golf is also a great rain or shine activity, as there are two locations in town where you can play indoors or outdoors.
If you need some rest, catch a movie uptown at Sun & Surf where you can recline in big cozy comfy chairs. If you're feeling energized, try laser tag, an escape room, or some good old fashion bowling.
Events Galore
There are always exciting events and attractions taking place in Ocean City. Enjoy events such as free movie nights on the beach, sports competitions, trade expos, and fishing tournaments.
Be sure to check the events calendar found here to see what is taking place during your stay.
Exciting Nightlife
After the sun goes down, Ocean City isn't ready to go to sleep. Head to the boardwalk and indulge your thrill-seeking side with some exhilarating amusement rides.
Grab your quarters and head to the arcade. There are also plenty of bars/nightclubs, many of which have specials and GREAT live entertainment! Whether you're ready to hit the boards with your family or dance the night away by the bay, there is something for everyone in Ocean City.
We hope you are ready to book your next Ocean City, MD vacation with us! Here at Hileman Real Estate, we are here to help make your vacation everything you hoped and dreamed it would be. Book now!